Rocktober 2021 is Coming at Minerals & Mystics!
When is Rocktober 2021?
October 1-3, 2021
Friday Noon-6pm
Saturday 10am-6pm
Sunday 11am-4pm
Find more info & RSVP HERE: https://cvillerocktober.com/
Minerals & Mystics is a local retail store specializing in rocks, minerals and sterling silver jewelry. Find out more about Minerals & Mystics at www.mineralsandmystics.com.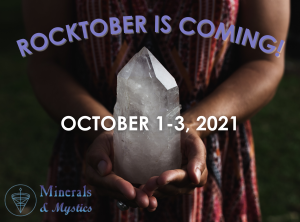 VENDOR LIST AS OF 9/21/21
AGQ Design
A variety of slabs, tumbled, rough, jewelry. Unusual varieties!
DayDream Designs
Wire-wrapped jewelry including custom pieces often created on site during the show. Additional crystal and mineral related artwork and dreamcatchers.
Ellie Gem Arts
Unique jewelry with natural gemstones, opals, pearls in sterling silver or gold.
Excalibur Mineral Corp.
Incredible rare and unusual mineral specimens, meteorites and analytical services.
Fine Lapidary Arts
Offers a wide variety of cut stones, rough material and jewelry with a special focus on opals.
Horizon Gifts
Journey There Wands
Wands, rattles and pendants.
Magical Healing Accessories to Empower and Awaken. Reiki Master, Shamanic Practitioner, Sound Healer, Mentor.
ManaSpring Creations
Handmade wood burn grids, wire wrap jewelry and wire gemstone trees.
Mazikeen Studios
A Cville Pride favorite with Pride flower crowns, semi-precious stone jewelry, copper wire-wrap jewelry and cold forge jewelry.
Medwife Integrative Therapeutics
Reiki infused, crystal energized bath & beauty products with positive affirmations.
Sealed In The Stars
Crystal candles, bath soaks, herb bundles for smoke cleansing, loose incense.
Shelly's Rock Shop
Quality large tumbled stones
White Rock Shadows
Handmade beaded and wire wrapped jewelry and supplies including sterling silver and gold filled findings and wire.
Minerals & Mystics
Your favorite local rock and jewelry shop!
Vendors subject to change based on last minute updates.